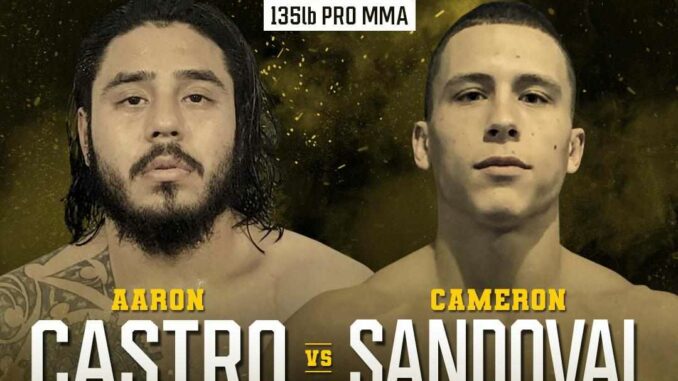 Often, a tough loss brings greater lessons than a big win. For Aaron Castro, who suffered defeat in his professional debut against Levi Whitlow at Fight For It XV, tasting a loss has proved to be no deterrent to the determined bantamweight. Months later, he's ready to stand across the cage from Cameron Sandoval, a 1-0 pro whose debut ended like many of his amateur bouts did: with a win via submission.
Castro has proven himself willing to go toe-to-toe and trade blows on the feet — he's both won and lost via referee stoppage. In addition to applying the lessons of his past outings, and striving for a redemption victory, Castro should aim to keep the fight on the feet. If he can control the range and prevent a takedown, he could see his hand raised at the end of the bout.
But Sandoval is a tough opponent, with a clear knack for finishing fights. Any chance he has to move into grappling range could quickly turn the tides.
Of course, since neither has yet gone the distance in the longer, professional rounds, this could prove to be a test of will and endurance if each man manages to neutralize the strengths of his opponent. Dragging the battle into the deep end of the later rounds could be an advantage for Castro, if his will to win can propel him farther and longer than Sandoval can keep up.
Any way it plays out, this will be an exciting bout between two emerging professional fighters, with enough unknown variables to ensure it'll be a tough one to call.
---
Fight For It XVII brings a heavy slate of kickboxing and MMA action to Charlotte's Grady Cole Center on Saturday, Nov. 4. Catch every moment live or streaming via pay-per-view. Kickboxing prelims start at 3 p.m., and the MMA card ignites at 7 p.m. Tickets for the live event and pay-per-view stream are available now via fightforitcompany.com.
And be sure to download the Fight For It app on on The App Store or Google Play to pick your fantasy winners at Fight For It XIV. The pool is free to play and will award the top three scorers with their share of a $500 cash prize.