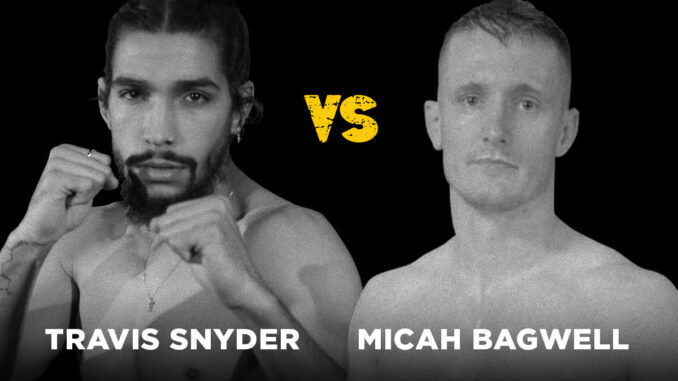 The fight scene is buzzing with excitement as MMA newcomer Micah Bagwell steps into the cage against Modern Warrior MMA's Travis Snyder. But there's a cause for the hype; this is no ordinary debut. Bagwell hails from the renowned American Top Team Asheville, a lineage with a rich history of producing MMA champions from Brazil to the United States.
This match promises to be a true showcase of each team's expertise, as both teams have proven their prowess in various fighting disciplines, including grappling, kickboxing, and MMA. Bagwell has made a name for himself in grappling competitions, but has dropped down to a catch weight of 160 lbs. to demonstrate his commitment to this bout on Feb. 18. Snyder, on the other hand, has shown his versatility while collecting victories in grappling tournaments, kickboxing matches, and by demonstrating his finishing skills in the Fight For It cage.
The outcome of this match will come down to a battle between size and skill. Bagwell, with his advantage in size, will have the chance to secure a one-strike K.O., but he'll have to use his full arsenal to rattle his well prepared opponent. Instead of a warm welcome, Snyder plans to greet Bagwell with quick jabs and powerful leg kicks, setting the tone for what promises to be an unforgettable fight. Get ready, because this is one showdown you won't want to miss!
---
Combat sports action returns to the Downtown Spartanburg Marriott in Spartanburg, SC when Fight For It XIV kicks off on Saturday, February 18. Catch every bout live in-person, or via pay-per-view, with tickets available now at fightforitcompany.com.
And be sure to download the Fight For It app on on The App Store or Google Play to pick your fantasy winners at Fight For It XIV. The pool is free to play and will award the top three scorers with their share of a $500 cash prize.