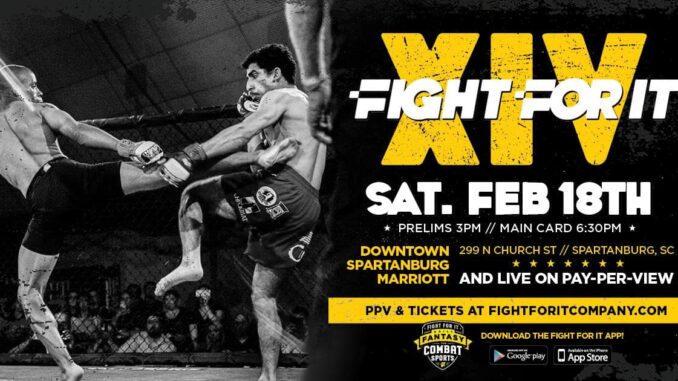 Fight For It returns to Spartanburg on Feb. 18, for what promises to be the promotion's biggest and best event to date!
Long a breeding ground for the Southeast region's top talent — including current UFC fighters — Fight For It has continued to provide a worthy crucible for aspiring champions to test their mettle against the best fighters across disciplines including MMA, kickboxing, and combat jiu-jitsu.
At Fight For It XIV, slated for Saturday, Feb. 18, 2023 at the Downtown Spartanburg Marriott, a full slate of combat sports prowess will be on display, live and for the first time ever, on pay-per-view! Preliminary bouts start at 3 p.m., with the Main Card kicking off at 6:30 p.m. Tickets and pay-per-view will go on sale shortly in the Fight For It Store.
Be sure to download the Fight For It App on iPhone or Android for all the fantasy sports action you can handle! And stay tuned to FightForItCompany.com for previews of Fight For It XIV bouts as they're announced.