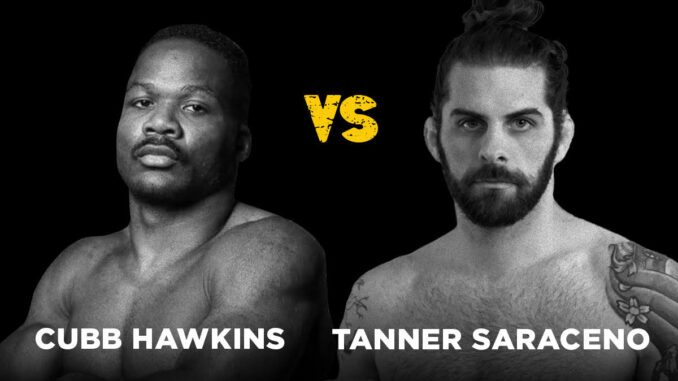 Tanner "The Hammer" Saraceno is not one to let the judges decide his fate. All nine of his professional MMA victories have been stoppages, with The Hammer proving dangerous with both strikes and submissions. Even in his losses, Saraceno has refused to give an inch, forcing his opponents to slog it out to the final bell, or stop the onslaught along the way.
In his most recent bout, a July victory over Sasha Palatnikov at XMMA 5, Saraceno proved relentless as he used long punches and heavy low kicks to create opportunities to clinch. His evasive head movement and constant threat of takedowns kept Patanikov guessing, as the pair battled well into the third round. But it was Saraceno's tenacity that led him to find the rear-naked choke in the blood-soaked bout's final minute.
Coming into Fight For It XIV, Saraceno can claim advantages in several facets of the bout against Cubb Hawkins. With a 9-6 record, Saraceno has more experience fighting at the professional level than Hawkins, who is undefeated in both MMA and bareknuckle boxing, but has only four fights (two in each discipline) in his professional resume. At 6′ 1″, Saraceno will have a reach advantage over the 5′ 9″ Hawkins, as well. And, finally, the South Carolinian Saraceno, who fights out of Revolution MMA in Irmo,
Still, when Saraceno touches gloves with Hawkins on Feb. 18, both fighters will have their work cut out for them.
As his undefeated records — and propensity for first-round finishes — in both MMA and bareknuckle boxing can prove, Cubb Hawkins has got hands. Against Garrett Call at BYB 13 in November, Hawkins showed patience and precision in his punches, putting Call on the mat twice before finally closing the deal with a lightning fast double jab.
But for all the work he's done with his boxing, Hawkins' foundation in wrestling might be the ticket to defeating Saraceno. While Saraceno's movement helps him dodge strikes, his eagerness to let striking lead into a grappling exchange could put Hawkins on the back foot. Unless, that is, Hawkins can time Saraceno's low rolls and clinch attempts to land sharp strikes in the pocket — much like he did from a tight Muay Thai clinch against Call.
Hawkins might not be the clear favorite on paper, but the skillset he's displayed in past bouts suggests he could well turn the tide suddenly. In the main event at Fight For It XIV, anything could happen. Just bet it won't be left up to the judges to decipher.
---
Combat sports action returns to the Downtown Spartanburg Marriott in Spartanburg, SC when Fight For It XIV kicks off on Saturday, February 18. Catch every bout live in-person, or via pay-per-view, with tickets available now at fightforitcompany.com.
And be sure to download the Fight For It app on on The App Store or Google Play to pick your fantasy winners at Fight For It XIV. The pool is free to play and will award the top three scorers with their share of a $500 cash prize.