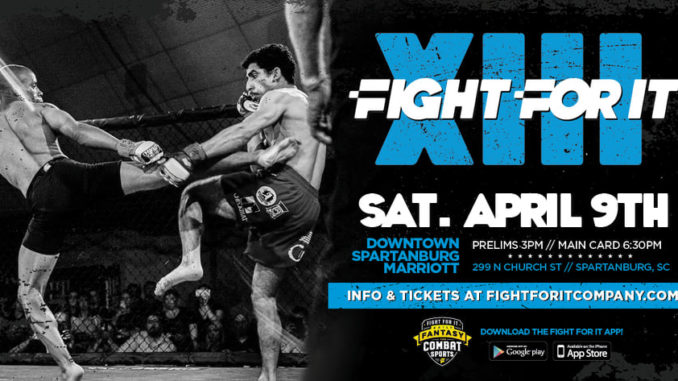 In what has now become a regular highlight of Fight For It events, the Carolinas' youngest emerging talents in the combat sports arena will set the pace for the fights to follow at Fight For It XIII.
In the first contest of the night, Devin "Dragon Fist" Westbrook, of the Sang Jeon Do Academy, challenges the 1-0 Mason "Punches in Bunches" Taylor, out of Lake Norman Muay Thai. Sang Jeon Do has produced a steady stream of explosive and impressively game competitors, and Lake Norman, likewise, has proven its consistency in producing sharp, technical talent. It's tempting to see this as a traditional-versus-modern match-up, but these academies' past showings have proven that their competitive spirit transcends style. Expect sparks to fly early in this 70-75 lbs. brawl.
Hayastan MMA's young-gun Cameron "The Champ" Purnell returns to Fight For It looking to avenge his loss at Fight For It XI. But to do that, he'll have to conquer the 1-0 Joseph "JP" Franco, of Konquer Martial Arts, in this bout at 95 lbs. Purnell proved in his debut he could stand up to an offensive barrage, and that steely resolve should serve him well here.
Stepping up in weight classes, at 160 lbs., Zion Hill vs. Zain Alraji, promises youthfull energy and speed coupled with full-size strikes. Hill, who trains at Carolina Kickboxing Academy, will have an advantage in experience, with a 1-1 record ahead of this bout. But Hill will give up reach to the 6-foot Alraji, who makes his debut out of BC Kickboxing.
Finally, Mason Riter looks to build upon his Fight For It XI victory over Tyler Moore by beating challenger Joseph "Mini Money" Snyder. While Snyder has more bouts under his belt — with a combined 0-2-1 record — the 1-0 Riter boasts a 5-inch height advantage in this 135 lbs contest, and brings the momentum of past victory to the ring.
If past precedent holds true, you won't want to miss these early battles. You can expect these youth bouts to set a high bar for the excitement to follow.
---
Fight For It XIII goes down Saturday, April 9 at the Downtown Spartanburg Marriott in Spartanburg, SC. Purchase your tickets now at fightforitcompany.com.
Be sure to download the Fight For It app on on The App Store or Google Play to pick your fantasy winners at Fight For It XI. The pool is free to play and will award the top three scorers with their share of a $500 cash prize.