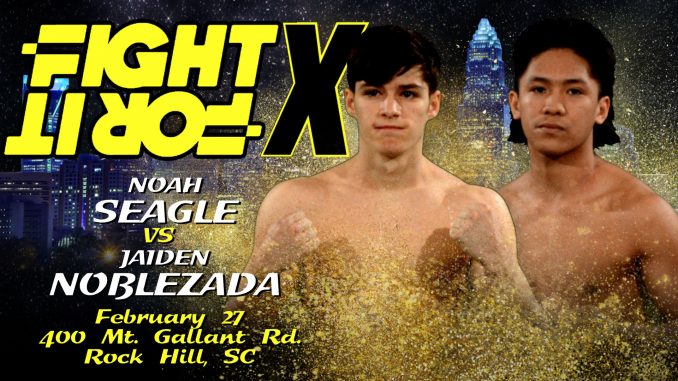 The youth Muay Thai bout between Noah Seagle and Jaiden Noblezada, duking it out at 132 lbs., was predicted to be one of the more exciting bouts of the preliminary card. Without a doubt, it did not disappoint.
Seagle hails from a family of strikers representing the esteemed Eight Points Muay Thai academy, while Noblezada hails from the similarly powerful school, Lake Norman Muay Thai. And despite being in their teens, both Seagle and Noblezada display an ample amount of experience, with 8 fights recorded for Seagle and 6 for Noblezada in advance of this one.
This was an explosive bout from the start. Seagle opened with a head kick that didn't faze Noblezada in the slightest, as he immediately went in for the clinch to throw knees before the referee separated the two. As the fighters went to engage again. Noblezada stepped in to throw a devastating right knee to the the body that dropped Seagle to the canvas and ended the fight. Noblezada advances his record with the TKO victory recorded just 32 seconds into the very first round.
Looking for more combat sports action? Download the Fight for It App to play Daily Fantasy for Combat Sports on iPhone or Android!