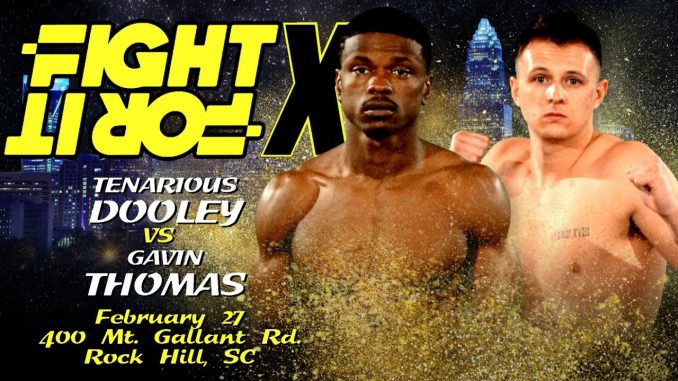 There were several moments when it seemed like either Tenarious Dooley or Gavin Thomas was on the verge of clinching victory. In their lightweight battle at Fight For It X, both men played to their strengths, with the debuting Team ROC Harrisburg fighter Dooley showing heavy hands early on, while SAGA Combat's Thomas sought to avenge his own debut loss with relentless attacks on the ground.
In the first round, Thomas' head and arm throw put Dooley on the ground, but in top position. Inside Thomas' guard, Dooley defended submission attacks while landing big hammer-fists. In the second, Thomas worked to bring the fight to the ground, firing off kicks at range to get Dooley to step into the clinch. But Dooley's counter-striking kept the bout even with a constant threat of big punches keeping Thomas wary of stepping in too close.
Still, against the cage, Thomas managed to secure takedowns and make strong submission attempts. A heavy flurry from Dooley put the men back into a clinch, with Thomas scoring the takedown and ending the round with a deep rear naked choke. The bell signaling the round's end was Dooley salvation.
Looking to repeat his second-round success, Thomas shot early for a takedown, which Dooley defended by grabbing the fence. The referee called the foul and deducted a point from Dooley. In response, Dooley played a tentative game through most of round three, keeping a heavy cross cocked as Thomas moved outsid eof punching range. Finally, Thomas stepped in close enough for Dooley to connect with an uppercut that put Thomas on the mat. Once again in Thomas' guard, Dooley threw ground strikes while Thomas attacked submissions until the final bell.
It was a close bout by any measure, with the stakes only heightened by the penalty against Dooley. From the judges' table, it was announced the bout would end as a unanimous draw. Despite its disappointing result, the bout between Dooley and Thomas was a thrill-ride for most of its duration. Surely, a rematch is in the cards.
Looking for more combat sports action? Download the Fight for It App to play Daily Fantasy for Combat Sports on iPhone or Android!