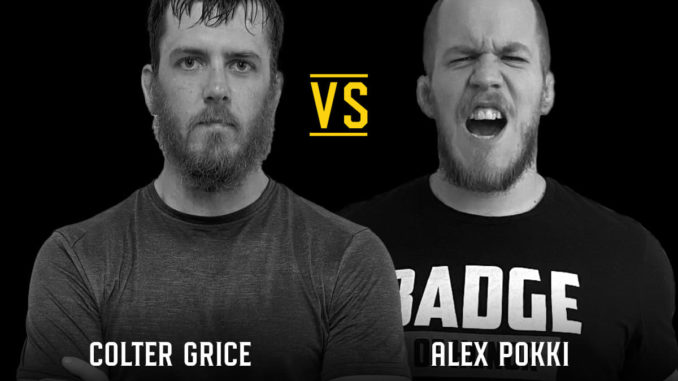 Combat Jiu-Jitsu fans were treated to a display of back-and-forth, strategic battles when Alex Pokki, representing Elevate MMA, took on Colter Grice, of Atlantic MMA.
After a scramble against the cage, Pokki attempted a takedown, but in the transition, Grice come out on top. From there, Pokki rolled through the position, only to have Grice attempt a partial crucifix control with a rear-naked choke. Squaring his base, Pokki managed to escape the crucifix and regain some ground. The bout quickly became a game of inches. While Pokki sought an angle to claim control,  Grice made subtle hip adjustments and threatening a kimura to stay ahead of his opponent, never allowing Pokki to secure full control.
But then, Pokki finally unraveled the mystery of Grice's guard, escaping to a full side mount. Grice, however, refused to cede the position. Bridging up to his knees, Grice roles back to guard, catching Pokki in a triangle choke. After a quick foot adjustment and hip shift, Pokki is forced to tap to the choke, giving Grice the victory.
Looking for more combat sports action? Download the Fight for It App to play Daily Fantasy for Combat Sports on iPhone or Android!