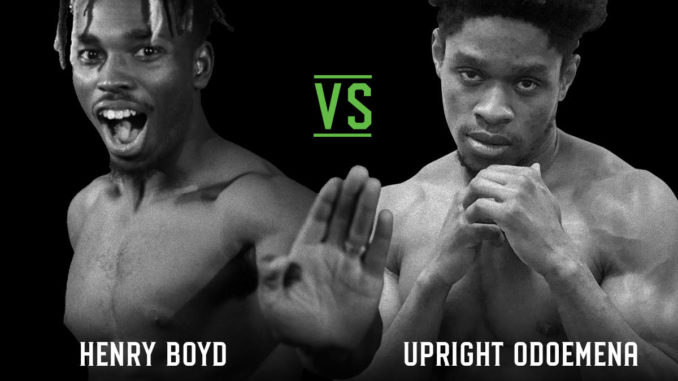 Back in November, at Fight For It XI, Henry Boyd made his kickboxing debut against Jesse Ledbetter. At FFI XII, Boyd transitions into MMA, but not without lessons taken from his outing in pure stand-up rules. Against Ledbetter, Boyd had trouble making his way inside his opponent's range. Despite obvious athleticism, Boyd elected to stay at distance with kicks rather than use his powerful body to deliver Mike Tyson like boxing combos. As the bout wore on, Ledbetter managed to avoid Boyd's power punches and keep picking away at him with quick combinations.
Boyd will need to capitalize on his power int he pocket as he faces Upright Odoemena in the cage. In the past, the 1-1 Odoemena has been finished with punches; he's also scored a second-round TKO victory of his own. Odoemena is an experienced wrestler who likes to throw hard leg kicks — both factors which will make it difficult for Boyd to close the distance. If he can, though, Boyd's power could prevail.
That said, expect Odoemena to win by ground and pound early in round three.
---
Fight For It XII takes place on Dec. 18 in Gaffney, S.C. Purchase your tickets now at fightforitcompany.com.
Be sure to download the Fight For It app on on The App Store or Google Play to pick your fantasy winners at Fight For It XI. The pool is free to play and will award the top three scorers with their share of a $500 cash prize.