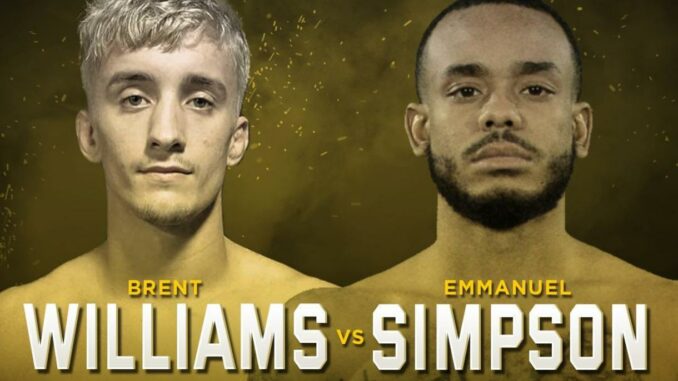 Evaluating Fight For It XV's Amateur MMA Main Event requires a careful examination of how both Brent Williams and Emmanuel Simpson have been evolving their styles leading up to the bout. 
Williams has proven himself as a formidable competitor with a well-rounded skill set. He showcased his diverse talents by winning the Fight For It kickboxing championship at 135 pounds, then setting off on his current two-fight win streak in MMA.
In past fights, Williams has excelled at moving forward, cutting angles, and putting together effective striking combinations. Additionally, his skill in grappling makes him a well-rounded threat.
Simpson, on the other hand, uses consistent forward pressure style to throw strikes while seeking takedowns. Simpson has significant power, potentially capable of delivering a KO, but Simpson will need to be cautious of Williams' skills at striking range and his ability to defend takedowns effectively.
That's where Simpson's recent willingness to stand and strike with talented opponents could open up new solutions to the problems he has struggled with in previous fights — and the type of problems Williams is likely to serve. Still, the question remains whether Simpson has made enough corrections to face the more experienced Williams.
In this closely contested fight, expect Williams to employ his usual strategy of moving forward, finding angles, and targeting various areas of his opponent's body. To avoid takedowns, he will likely focus on staying agile and keeping the fight on his feet. However, if Simpson's energy begins to fade, Williams may seize the opportunity to take him down and exert control on the ground. It is an interesting matchup with both fighters having their strengths and vulnerabilities.
Considering these factors, my prediction leans towards Williams winning by decision. The fight promises to be a close one, and it will be fascinating to see how each fighter's adjustments and strategies unfold in the cage.
---
Combat sports action returns to the Downtown Spartanburg Marriott in Spartanburg, SC when Fight For It XV kicks off on Saturday, July 29. Catch every bout live in-person, or via pay-per-view, with tickets available now at fightforitcompany.com.
And be sure to download the Fight For It app on on The App Store or Google Play to pick your fantasy winners at Fight For It XV. The pool is free to play and will award the top scorers with their share of a $250 cash prize.
Fight For It XV is brought to you by Budweiser of Spartanburg, Benson Hyundai, 9 Lives Tattoo, 92.5 WESC, WSSL 100.5, South Carolina Army National Guard, and the 9Round Kickboxing Fitness of Spartanburg and Boiling Springs.