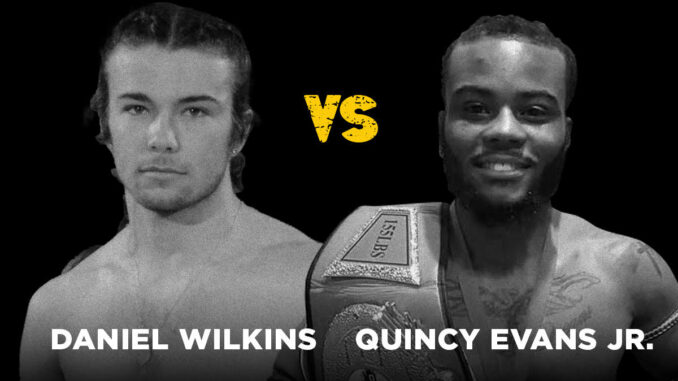 Since earning a submission win in his MMA debut at Fight For It X, Daniel "Smiley" Wilkins has been on an absolute tear. (Though his opponents' elbow ligaments might resent my phrasing.) With a trilogy of first-round armbar finishes through 2021 and '22, "Smiley" is looking to welcome the new year with a title strap to add an exclamation point to his early accomplishments.
But the heavy hitter Quincy Evans, Jr., is keen to ruin that streak. After losing his own debut to a submission in 2021, Evans has picked up four wins, only one of which lasted long enough for the judges to weigh in.
Both men have shown a knack for ending their contests early, but Wilkins will need to be cautious as he enters Evans' striking range to grapple. If he can work his way into the clinch and onto the ground, though, Wilkins should feel confident; Evans' only loss was, after all, by way of submission. But whether he can weather a barrage of lights-out punches to get there is the question that promises to define the bout.
Either way, don't look for this title fight to go the distance; both men have long since proven their disinterest in letting the judges decide.
---
Combat sports action returns to the Downtown Spartanburg Marriott in Spartanburg, SC when Fight For It XIV kicks off on Saturday, February 18. Catch every bout live in-person, or via pay-per-view, with tickets available now at fightforitcompany.com.
And be sure to download the Fight For It app on on The App Store or Google Play to pick your fantasy winners at Fight For It XIV. The pool is free to play and will award the top three scorers with their share of a $500 cash prize.