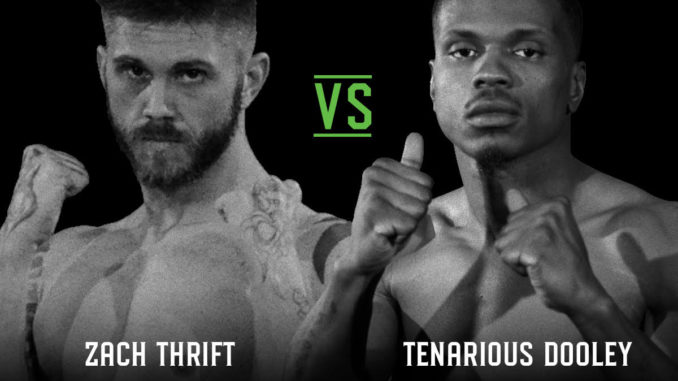 Both Zach Thrift and Tenarious Dooley have proven their mettle at past Fight For It events. On Dec. 18, Thrift's dogged forward pressure will have to contend with Dooley's power punches and sharp counter-striking.
At Fight For It X, kickboxing against Brandon Rollins, Thrift showed his aggression from the opening bell. Uncorking flurries of strikes while pressing Rollins toward the ropes, Thrift quickly set the stage for a high-intensity bout. That strategy didn't pay off for Thrift in that bout, however, as Rollins found home for a heavy knee to the liver from a clinch, and took the victory.
On the same card, Dooley fought a close battle with Gavin Thomas that showed Dooley's knack for counter strikes to keep his opponent at range, while threatening the heavy power-punches that sent Thomas to the mat the moment he let down his guard. In the ground exchanges, Dooley managed to scramble into top position consistently, where he showed himself more than happy to lay on smothering ground-and-pound from inside the guard.
Dooley's tenacity and stubborn counter punching might prove a tough foil to Thrift's aggressive pressure. But if Thrift can keep his pacing more measured, this should be a close battle that could quickly tilt in either direction.
---
Fight For It XII takes place on Dec. 18 in Gaffney, S.C. Purchase your tickets now at fightforitcompany.com.
Be sure to download the Fight For It app on on The App Store or Google Play to pick your fantasy winners at Fight For It XI. The pool is free to play and will award the top three scorers with their share of a $500 cash prize.