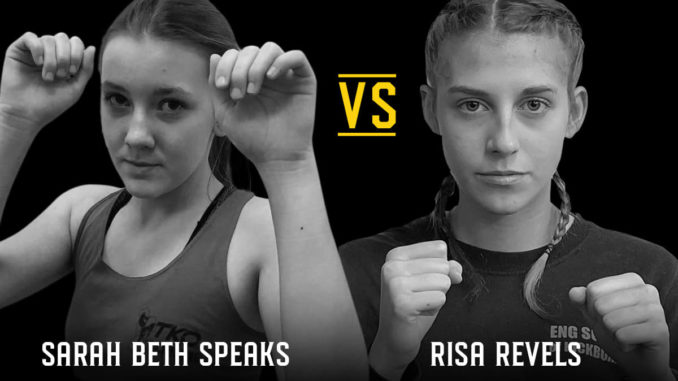 The youth kickboxing division brings an exciting matchup between debut fighters, Sarah Beth Speaks out of TKO Gym in Statesville, NC, and Risa Revels out of Eng School of Self Defense in Clover, SC.

At only 15 years old, Speaks trains in the kickboxing and Muay Thai program at TKO Gym in Statesville, NC, headed by Kru Nathan Speaks. Her coaches boast a long lineage of training, both in America and in Thailand; Kru is also a 6th degree black belt in American Kickboxing. With such a strong background of developed techniques and competitive focus from her superior coaching, she'll be approaching her debut fight with a very well-vetted background.

Revels will put that competition mindset to the test with her background in the self-defense focused hybrid style, World Combative Arts. Training at the Eng School of Self Defense in Clover, SC, Revels' style aims encompass a wider range of tactics and skillsets across all martial arts. The school was founded by Robert Eng III and places a huge emphasis on self defense, security, LEO training, and handgun safety. At 17, Revels already has the fervor of a seasoned competitor.

Both of these young competitors have been immersed in martial arts for much of their lives, but in the context of sport kickboxing, Speaks' specialized training gives her a major advantage over Revels' more diversified training experience.
---
Be sure to download the Fight For It app on on The App Store or Google Play to pick your fantasy winners at Fight For It X. The pool is free to play and will award the top three scorers with Fight for It merchandise prize packs.