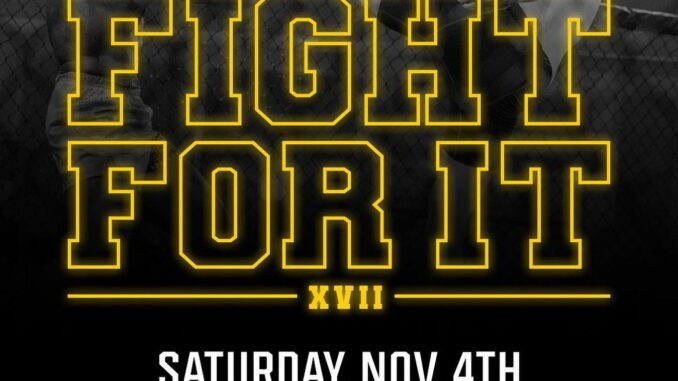 At Fight For It XVII, even the audience gets to step into the heart-pounding world of combat sports, where every punch, kick, and knockout reverberates with monumental power. On Nov. 4, those in attendance will witness the heavyweight divisions let loose with epic performances and larger-than-life personalities, echoing the glory days of legends like Ali, Tyson, Foreman, and Frazier. You'll see new names rise to the occasion, making their mark with sizable matchups that promise unforgettable moments.
In the Youth Kickboxing Division, future stars Alejandro Bautista and Aiden Bowers will clash in a bout that's already setting a new standard for excitement. The young guns' display promises to set a high bar for the adults who follow. And, to be sure, the stakes only get higher, as Anthony Campbell and James Parks clash for the amateur heavyweight Kickboxing title. Both men stand ready to honor the championship position and become the face of Fight For It Kickboxing.
The MMA card promises just as many heavy hitters. James Blake Stanley and Jeremy Hartsell will collide in the amateur ranks, each of these competitors taking their first steps toward victory. The pro division is nothing short of spectacular. Following a light heavyweight clash in which veterans Roger Pratcher and Gregory Smith Jr. will showcasing their seasoned MMA skills, the true heavyweights, Dalton Taylor and Tylando Mattress — both former kickboxers — will collide in a brutal showdown that promises to end with a highlight-reel knockout.
When the big hitters square off at Fight For It XVII, one thing is for sure: You'll be on the edge of your seat, whether you're watching at home via PPV or live at The Grady Cole Center. Secure your tickets now and experience these colossal collisions. This is not just a fight; it's an unforgettable night of adrenaline, skill, and the undeniable thrill.
---
Fight For It XVII brings a heavy slate of kickboxing and MMA action to Charlotte's Grady Cole Center on Saturday, Nov. 4. Catch every moment live or streaming via pay-per-view. Kickboxing prelims start at 3 p.m., and the MMA card ignites at 7 p.m. Tickets for the live event and pay-per-view stream are available now via fightforitcompany.com.
And be sure to download the Fight For It app on on The App Store or Google Play to pick your fantasy winners at Fight For It XIV. The pool is free to play and will award the top three scorers with their share of a $500 cash prize.