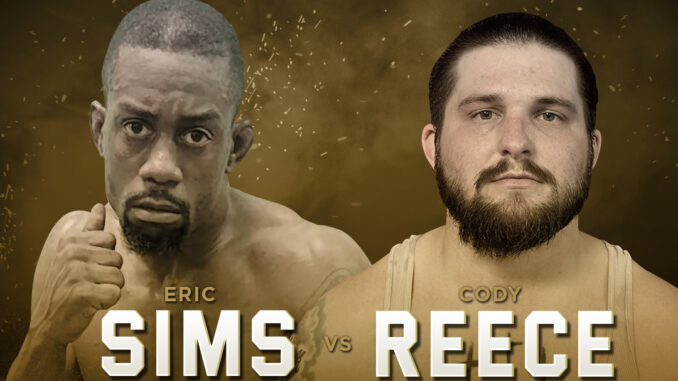 The bout between Cody Reece and Eric Sims transcends whatever happens inside the cage. For both men, this fight is a battle of resilience, redemption, and the pursuit of greatness.
Reece, a previously undefeated amateur MMA fighter with a record of 6-0, found himself entangled in a battle off the canvas — a fight against opioid addiction. This personal struggle forced him to take a hiatus from the fight game, putting his promising career on hold. Now, Cody's journey to recovery and redemption has led him back to the fight scene, and in sharing his battles with addiction, he's inspiring others with his courage and resilience.
That's why for Reece, the road back to MMA has been about more than just winning; it's been a path to reclaiming his life and pursuing his passion. His return to his weight class signifies his determination to resume his fighting career, and Fight For It XVI will be the platform for this comeback.
On the opposite side of the octagon stands Eric Sims, a fighter who epitomizes dedication and self-improvement. Sims' return to the MMA cage is fueled by a relentless inner drive, a deep inspiration that has always defined him as a man. During his time away from competition, Eric focused on personal growth and development, refining his skills with the guidance of his coach, Jeff Cope.
Sims' evolution in Jiu-Jitsu skills reflects his unwavering commitment to improvement. His journey, nurtured by his team at Ground Control, has taken him to new heights. As he prepares for the upcoming fight, Eric maintains a relaxed yet focused mindset, ready to showcase the fruits of his labor.
Unfazed by pressure, Sims emphasizes that on fight night, it's time to have fun. His focus remains on enjoying the experience and performing to the best of his abilities, embodying the essence of a true martial artist.
While these men test their skills and their will against each other — and against their former selves, fans can look forward to a clash of skilled competitors that also stand as inspirations to those who face their own personal struggles, proving that the journey to victory is as significant as the destination.
---
Fight For It XVI and The Fight For It Expo promise a full day of action on Saturday, Sept. 16 at The Benton Convention Center in Downtown Winston-Salem, NC. Catch every moment of MMA, kickboxing, and more — live in-person, or via pay-per-view, with tickets available now at fightforitcompany.com.
And be sure to download the Fight For It app on on The App Store or Google Play to pick your fantasy winners at Fight For It XIV. The pool is free to play and will award the top three scorers with their share of a $500 cash prize.