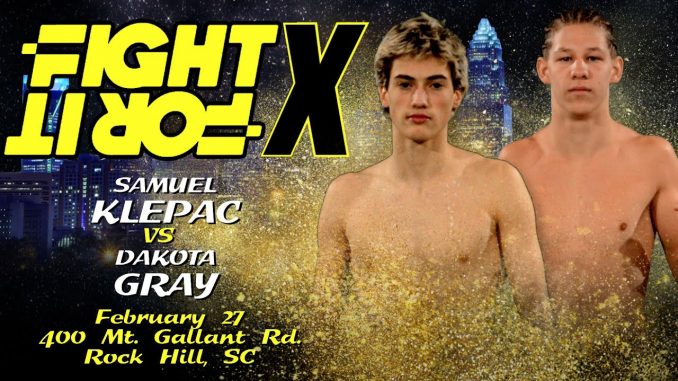 In just the second bout of the evening, Fight For It X saw sparks fly when Samuel Klepac and Dakota Gray clashed in an explosive kickboxing scrap.
Klepac, the 17 year-old out of American Top Team, Asheville showed speed and precision with his karate-informed approach, landing fast combinations and heavy leg kicks, and quickly darting back out of range. But he met considerable opposition from the 15-year-old Gray's disciplined defense, steady pressure and heavy punch combinations. Fighting out of Lake Norman Muay Thai, Gray showed tenacity as he battled into the pocket to land heavy leather against his opponent.
In the end, the judges gave the win to Klepac, who kept up his speed and output through all three rounds, leaving Gray's leg well reddened by the final bell. With the victory, Klepac extends his winning streak to a 2-0 record, while Gray slides to 0-2.
Both fighters showed astonishing skill and composure in the fight, especially given their young ages and relative experience. Expect big things from both of these young men in the future.
Looking for more combat sports action? Download the Fight for It App to play Daily Fantasy for Combat Sports on iPhone or Android!