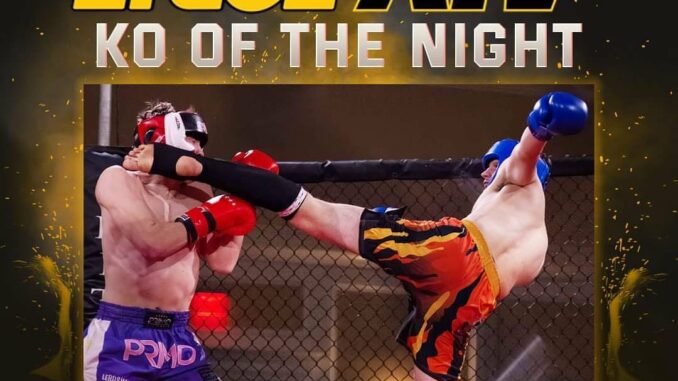 The cage is disassembled, packed away for another night. The event hall now empty of captivated spectators. But Fight For It XIV continues to deliver excitement. Remembering a fight card that featured more than a dozen finishes, a few gruesome reminders that you don't "play" combat sports, and a wall-to-wall slate of talented athletes putting it all on the line, is sure to keep the mental highlight reel running for a while.
But more than that, Fight For It XIV raised the bar, yet again, for our audiences expectations. The event proved that there are still levels to go as we seek to showcase the pinnacle of martial arts action in the Carolinas. As exciting as Fight For It XIV was, the bigger thrill might be anticipating what comes next.
Our ringside commentators, Dylan McGrath and Ses Stevenson, look back on the night that was — the hard-fought battles, the quick finishes, and the rising stars — and look forward to what's on the horizon for the Fight For It promotion.
Dylan McGrath: "Fight For It XIV was an action-packed show from start to finish."
The youth kickboxing fights that opened the event showcased a bright future ahead of us in the Carolina combat sports scene. In the final fight of the youth portion, Dakota Gray looked better than ever in his victory over Tyler Meyers. Gray is definitely someone I have my eye on as he transitions from youth competition to adult competition in the coming years.
In our kickboxing fights, we had many competitive and compelling matchups but a few stood out to me as particularly special. Erin Johnson picked up a big finish early in the card with a highlight-reel-worthy head-kick KO. After much consideration however, my personal fight of the night was Benjamin Froelich vs. Isaiah Copeland. The energy that Froelich brought to this fight from the time he walked through the curtain was palpable in the venue, and Isaiah rose to the challenge laid down by Froleich in a big way as they went blow for blow. I said on the mic that I thought this was the best kickboxing fight in Fight For It history, and if you folks at home can think of a better one, let us know!
In the MMA fights, I was stunned once again by the Carolina Combat Sports & Fitness team led by Tom Ziegler and Bryan Battle. Every athlete they produce or put into the cage at this event showed exactly why they continue to be the gym to beat, show after show.
The performance that stood out to me the most however, was the MMA debut of Sam Marler. If you've followed Fight For It for a few years, you may recognize Marler from his many exciting kickboxing bouts, but it was grappling IQ and technique that paid dividends for him in this fight, as he picked up a fantastic submission finish. I was also on the edge of my seat for both amateur title fights. Gavin Thomas picked up a huge KO win, while Quincy Evans, Jr. showed a high level gameplan against an undefeated and far from run of the mill opponent in Daniel Wilkins.
All of our pro fights were electric of course, but Paris "Ares" Artis' return to the Carolinas was met with both violence and fanfare as he brutally finished Gaberial Brown in the second with a devastating knee. It was truly special to see the return of a big name fighter in this area, and the moment he shared cageside with Ses Stevenson after the fight. 
Ses Stevenson: "Fight For It XIV delivered an unforgettable night of martial arts action"
Fans stayed on the edge of their seats from start to finish.
The evening kicked off with an incredible youth kickboxing division. Clay Johnson (representing TKO) set the tone with a masterful performance, utilizing forward pressure and a relentless clinch to earn a well-deserved victory over Christopher Green. Sebastian Cruz (American Top Team) and Mason Taylor followed with a high-octane battle that left the crowd roaring with excitement. And in a display of technical prowess, Liza Berdan (BCBJJ) expertly maneuvered around her opponent, Lainie Dorsett from Eng Self Defense, to secure a hard-earned decision victory.
The highlight of the youth division, though, belonged to Dakota Gray (Lake Norman Muay Thai), who delivered a jaw-dropping knockout in the second round with a relentless body attack. Gray's impressive performance was a testament to his skill and training, leaving no doubt that he is — and will continue to be — a force to be reckoned with.
The adult kickboxing portion of the event kicked off with wins from a pair of unrelated Johnsons: Brandon Johnson (Team ROC) bounced back from a previous loss in MMA by earning a well-deserved win by decision, and in the second bout, Erin Johnson (Combat Performance) secured his first win by delivering a crushing left kick to the head of Hartman Smith for a KO victory.
Isaiah Copeland (Team ROC) and Benjamin Froelich (Combat Performance) put on an incredible show, as well, with Froelich setting the tone for the fight by beating his chest and getting into his opponent's space. The match was a back-and-forth battle, with Copeland ultimately emerging as the victor by decision.
In the MMA portion, the hits kept coming. Out of 14 MMA bouts, 11 ended in finishes, making for a thrilling night of action-packed fights.
One of the most wince-inducing moments of the night occurred when Kasen Taylor broke the arm of Tyler Kirkpatrick with a belly-down armbar, leaving the audience stunned. Gavin Thomas claimed the featherweight title in impressive fashion, winning by KO, while Quincy Evans secured the lightweight title with a referee stoppage in the fourth round.
Jameson Thompson was able to secure a rear naked choke in the first round, adding another exciting finish to the card. Another highlight was the fight between Emmanuel Simpson and Addison Hendry, which kept the crowd entertained every step of the way. Simpson ultimately emerged victorious, but both fighters showed great skill and determination.
In the only women's MMA bout of the night, Morelia Trinidad defeated Rachel Gutierrez in the first round with a stunning KO. Benjamin Moreno also made a return to the MMA division and impressed with a second-round head kick that sent his opponent face-planting to the mat.
Tanner Saraceno of Revolution and Paris Artis of Team ROC also earned pro wins via referee stoppage, showcasing their skills and dominance in the cage. Josh Motsinger made his pro debut on short notice and defeated Ernest Robinson in the third round, proving himself as a promising up-and-comer in the MMA world.
With a night filled with intense bouts and impressive performances from all the fighters, it was an unforgettable event that left fans eagerly anticipating the next one.  
Overall, Fight For It XIV showcased the best of what martial arts have to offer — skill, technique, and heart. It was an unforgettable night that left fans buzzing with excitement, and we can't wait to see what's in store for the next event. Without a doubt, this was a perfect 10 out of 10.