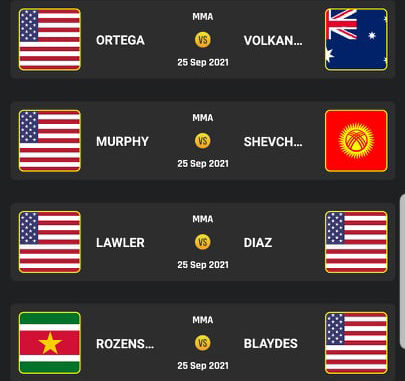 This weekend's UFC 266 card is bringing us several intriguing matchups as well as two championship bouts. Fight For It, as always, is offering you the chance to pick and win cash prizes on the Fight For It App for select bouts on this weekend's card. Let's go through those matchups now for a preview of what to expect when you make your picks.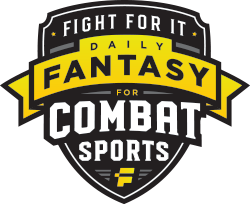 Chris Daukaus vs Shamil Abdurakhimov
Chris Daukaus — coming back to the octagon after defeating Aleksi Oleinik in the first round back in February — has quite the task ahead of him when he takes on Dagestan's Shamil Abdurakhimov. Abdurakhimov has not made the walk since his TKO loss to Heavyweight contender Curtis Blaydes back in September of 2019, leading many to believe ring rust may be a factor for the Russian. A closer look at his record, however, reveals that in his time in the UFC, Abdurakhimov has not taken a loss from anyone not currently in the top 5 of the division, giving merit to the No. 7 ranking the Dagestani holds coming into this matchup. True to his country of origin, Abdurakhimov will be looking to take this one to the ground early and often, while the comparatively young Daukaus will be looking to land one of his signature bombs. That said, Daukaus is currently surging, coming off two back to back performances of the night with phenomenal KOs in both appearances, as well as a staggering ten of his eleven wins coming by KO or TKO. I have a feeling this heavyweight scrap won't make it to the judges' score cards 
Nasrat Haqparast vs Dan Hangman Hooker
Both fighters in this pivotal lightweight matchup had VISA issues coming into this fight and did not arrive in Vegas until about a day before weigh ins, less time for Haqparast; both fighters still made the weight with seemingly little issue in a awe inspiring display of both professionalism and determination. This bodes well for a great matchup between the two, as both look to be in some of the best shape of their careers despite the setbacks. Dan Hooker has been sorely missed by fight fans since his round one loss to Michael Chandler on fight island, putting him at 3-2 in his last five; the kiwi kickboxer is looking to turn his fortunes around against Haqparast, who enters this bout on a two fight win streak. Haqparast is a striker who likes to come forward, which in this analyst opinion plays perfectly into The Hangman's game. Nasrat has power in his hands however, and will certainly be looking to test Hooker's chin after such a devastating knockout in his last bout. 
Merab Dvalishvili vs "Magic" Marlon Moraes
Georgia's Merab Dvalishvili has seemed like a wrecking ball of late, besting his last six opponents handedly in one-sided decision wins, The Ray Longo/Matt Sera project will take on a former bantamweight title challenger when he enters the Octagon against "Magic" Marlon Moraes. Moraes is no stranger to the kind of fight Dvalishvili will bring to the table, the question is whether he still can perform against fighters as elite as Merab at the UFC level. After losing his last two bouts by knockout, many question if Moraes is still the same fighter he was in round one against Henry Cejudo. I have no doubt he'll be looking to silence those critics this weekend, and my hope is that the long layoff from his last outing has given him time to recover and reform into a stronger fighter. We may see a totally different Marlon Moraes this weekend; if we don't, we may be seeing a new title challenger at 135 lbs. in Merab Dvalishvili.
Cynthia Calvillo vs Jessica Andrade 
Cynthia Calvillo most recently was on the wrong end of a decision loss to Kaitlyn Chookagian, but since then has taken plenty of time off to recalibrate and reenergize. And she'll need all the energy she can muster against former strawweight champion Jessica Andrade, who we have not seen since her TKO loss to 125-lbs. great Valentina Shevchenko. Andrade has always had a strong wrestling game but her power at 125 is even greater than in her strawweight run. Calvillo's boxing has served her well, but I don't think she's fought anyone quite on the level of Andrade yet. I'm interested to see what happens when this one gets to the ground, as Calvillo is underrated as a grappler and we know Andrade will be looking to test her there as the fight goes on. 
Curtis Blaydes vs Jairzinho Rozenstruik
Curtis "Razor" Blaydes has been on the cusp of UFC greatness for nearly three years, entering the heavyweight top-five picture after his knockout of Alistair Overeem in 2018. The standout wrestler now faces another heavy-handed challenger in Jairzinho Rozenstruik. Blaydes has shown that he must be finished to stop the takedown, and Rozenstruik has shown he can finish nearly anyone with one shot. This fight, as a lot of high level heavyweight fights are, is a tossup to me. Will Blaydes be able to hold Rozenstruik down if he takes him to the mat? Almost undoubtedly. But can he take the fight there without taking damage? And, moreover, does Rozenstruik carry his power into the later rounds? I have a feeling the first minute of this fight will tell us all we need to know about it — if it lasts up until that point. 
Nick Diaz vs Robber Lawler 2
In a matchup 17 years in the making, two legends of the sport collide as Nick Diaz's long-awaited return comes against Robbie Lawler. Frankly, I have no idea what to expect out of this matchup. We all know Robbie Lawler is a fighter's fighter but doubting the toughness and heart of the Diaz clan seems like a fool's errand at this point. Nick certainly doesn't appear to be in the best shape of his career, but we've seen guys more out of shape than him handedly win fights at this level, especially at his age. The original matchup between the two all that time ago was a perfect summation of their careers: all action, pedal to the floor with the brake lines cut. If we're lucky, we'll get a sequel worth waiting for this weekend.
Lauren Murphy vs Valentina Shevchenko
Is there a woman alive that can beat "The Bullet" at 125 pounds? That is a question Lauren Murphy hopes to answer with a resounding yes this weekend. But she faces near David vs Goliath-level odds taking on the women's flyweight champion. Murphy is certainly tough and gritty, and above all else a grinder who's committed to making every fight she's in a battle. This game plan works well in the women's divisions as there's not a bevy of women with knockout power at their disposal, and eventually they fall prey to Murphy's grueling clinching and cage work. However, no woman on the planet has been able to even begin to implement a game plan against the champion, much less survive Valentina Shevchenko's attacks. Moreover, The Bullet seems to improve dramatically in each outing, in all areas of MMA. I think we see Shevchenko hold onto her title once again this weekend, further cementing her legacy as an all-time great pound-for-pounder. 
Brian Ortega vs Alexander Volkanovski
A long awaited clash between TUF 29 rival coaches Brian Ortega and Alex Volkanovski is finally taking place in our main event this weekend, with the No. 1 Featherweight ranking at stake. In the last few weeks, the rivalry between these two seems to have taken a personal turn, with Volkanovski having some choice words for Ortega at the weigh-ins and subsequent face-offs.
Ortega is looking at his best shot at winning UFC gold against Volkanovski, who remains largely untested on the ground by someone with BJJ on the level of T-City's. He looked much more complete in the striking realm against The Korean Zombie after his long layoff post-Max Halloway loss, but if I were him I would not be looking to engage in a prolonged kickboxing affair with the Australian Champion, as Volk may be a tougher test for him in that department than Halloway was. I think we should be on the lookout for Ortega to use his height to clinch and lean on Volkanovski, forcing him to shoot or sprawl, and immediately wrapping his neck up similar to his bout against Cub Swanson. Ortega is a certified finisher when he does wrap people up, but he's not exactly a takedown artist. A double leg or high crotch takedown in the center of the cage is likely not in the cards for him this weekend.
Volkanovski will likely look to work behind his jabs and leg kicks to keep Ortega at bay and avoid both his deadly clinch and cinch game, as well as the knockout power he possesses for a 145-er. Easily the most anticipated matchup on the card for me comes in the form of this title bout, and I'm incredibly excited to see what happens, and who comes out on top when the dust settles on UFC 266.
---
Be sure to download the Fight For It app on on The App Store or Google Play to pick your fantasy winners at UFC 266. The pool is free to play and will award top scorers with cash and merchandise prizes.