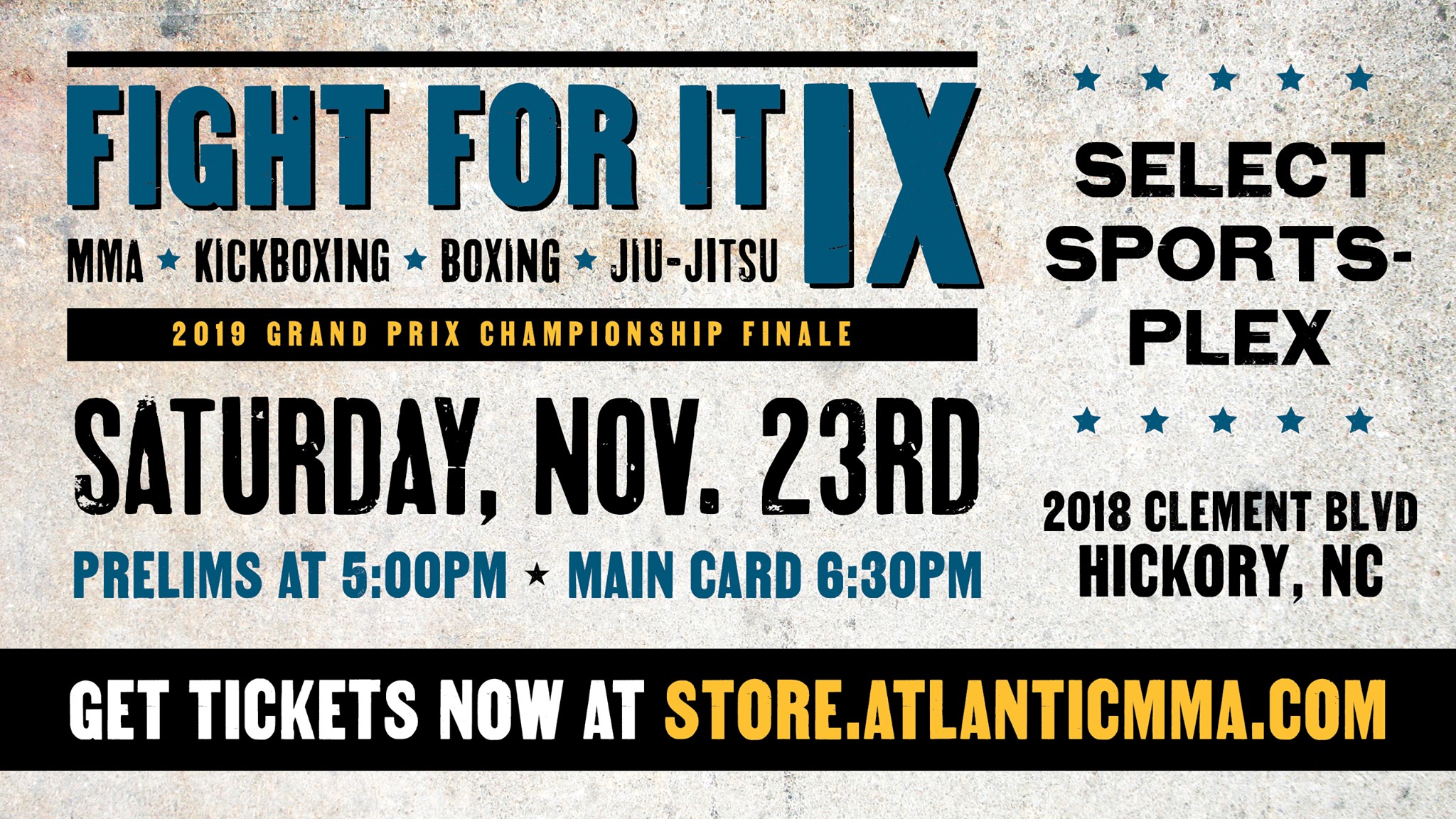 On Saturday, Nov. 23, Fight For It IX will once again bring all four major combat sports to Hickory N.C. at Select Sportsplex.
After an afternoon of amateur boxing (including a bout featuring Fight For It promoter Jonathan Stamey), Fight For It IX kicks off in fine fashion with eight scheduled kickboxing matches — including three title fights — a jiu-jitsu match at intermission, and an MMA card that features 11 amateur fights — including the heavyweight title fight — and three professional bouts.
Suffice to say, there's a lot of action on tap. Here we break it down bout by bout.
Note: The card is subject to change without notice, as is the nature of the combat sports. Anything can happen, and it usually does.
Kickboxing
Devin "Happy Endings" Nguyen vs. Kim A — 125 lbs.
The kickboxing debut of two experienced MMA fighters picks up from a canceled MMA bout in 2018, giving Gym-O's Nguyen and Primal MMA's A a chance to finally duke it out.
Alex "Lockdown" Lockley vs. Jason Dula — Heavyweight
A pair of heavyweights from regional powerhouse academies, Schell Shock BJJ's Lockley and Atlantic MMA's Dula make their kickboxing debuts.
Shayaan "Shyino" Khokhar vs. Zachary "The Cannibal" Thrift — 170 lbs.
Veterans of Fight For It events, the Elevate MMA Academy striker Khokhar (3-3) and the Gym-O trained Thrift (2-1) both look to build on previous successes as they march forward in the amateur ranks.
Sam Marler vs. Garrett Rosenbaum — 170 lbs.
Each looking to sharken their striking skills, TKO's Marler debuts against Atlantic MMA's Rosenbaum, a debut kickboxer with an 0-2 record in MMA.
Brandon Rollins vs. Bobby "Wasabi" Martin — 145 lbs.
The 4-1 Rollins, fighting out of Tap Out Raleigh, returns to the Fight For It ring after a decisive win in September to take on 36 Chambers Muay Thai's 7-3 striker Martin, who arrives on a win streak of his own.
Aiden Chester vs. Omer "Omiyo" Hassan — 135 lbs. Title Fight
Apex Martial Arts' Chester arrives to this bout with a 2-3-1 record, hungry for his shot at the title. But the 2-2 Hassan, fighting out of Harris and Coble Muay Thai, has shown himself a tough competitor with a number impressive showings in the Fight For It ring.
Roland "Roly Poly" Mizell vs. Marquell Fulwood-Jones — Heavyweight Title Fight
Elevate MMA Academy striker Mizell boasts the kickboxing experience here, with a 4-1 record to his name. But challenging him for the inaugural heavyweight title is seasoned MMA striker Fulwood-Jones, who has proven his ability to throw heavy leather in his 2-3 MMA career.
Georges Kopa vs. Josh Crouch — 170 lbs. Title Fight
After earning the championship at Fight For It VIII, Atlantic MMA's Crouch now has the challenge of defending his belt against the 9-2 Kopa. The Raleigh Institute of Martial Arts-trained Kopa already holds Triangle Kickboxing Promotions' light middleweight title; at Fight For It IX, he'll look to add another title to his tally.
Jiu-Jitsu
Johnny Lea vs. Roland Parker
During the intermission between the kickboxing and MMA cards, we turn to the cage where Great Grappling BJJ's Johnny Lea faces Fight to Win Shelby's Roland Parker for a 10-minute purple-belt jiu-jitsu match.
MMA
Adrian Breakley vs. Dan Thomas — 135 lbs.
The 2-0 Brealey, fighting out of Burgess Boxing, takes on Glory Martial Arts' 1-1 Thomas for a clash that, on paper at least, looks like a close call. Expect another exciting bout in the talent-rich bantamweight division.
Joseph "The Hunter" Pou vs. Mac "Mushu" Shumate — 170 lbs.
Welterweights Pou and Shumate look to build their records when they clash at Fight For It IX. Deep Waters prospect Pou arrives undefeated at 2-0, while Section 8 MMA's Shumate stands at 1-1.
Brandon Garcia vs. Michael Queen — 135 lbs.
Another bantamweight brawl, this time featuring debuting fighters from stalwart academies. Garcia comes to us from Team ROC Harrisburg, while Queen fights out of Gym-O.
Jacques "Bang Bang" Diggs vs. Pat "Breeze" Broadnax — Heavyweight
Diggs fights out of Team ROC Fayetteville, while Broadnax arrives as an independent fighter, but when these debuting heavyweights collide anything could happen.
Dylan Nelson vs. Kerry Reed — 150 lbs. (Catchweight)
Team ROC Harrisburg has another representative in the debuting Nelson, who'll face Glory Martial Arts' Reed, a fellow debut, for a catchweight bout at 150 lbs.
Emmanuel Simpson vs. Sam "Slydog" Slyman — 145 lbs.
Featherweights Simpson and Slyman both debut with the backing of well-established teams. Simpson represents Hayastan MMA, while Slyman calls Section 8 MMA his home gym.
Dalton "Too Strong" Taylor vs. Caleb Harris — Heavyweight Title Fight
Battling for the title, Forged Fitness upstart Taylor — who is undefeated at 3-0 — takes on a much more experienced opponent in the 5-5 Rock Bottom MMA heavyweight Harris.
Jack Neely vs. Devin Stevens — 170 lbs.
The welterweight debut of Team ROC Harrisburg's Neely and Section 8's Stevens, a staple of the submission-only jiu-jitsu circuit, promises plenty of surprises from the young upstarts.
Alex Paloni vs. Justin "Wolverine" Gunter — 160 lbs. (Catchweight)
Paloni returns to Fight For It looking to turn around a two-fight skid that began when he lost to the recently minted pro Trukon Carson at Fight For It IV. Here, the 4-4 fighter out of Charleston Krav Maga faces the 2-2 Rock Bottom MMA prospect Gunter, who's looking to redeem a loss of his own against Rashad Vance in August. Two hungry fighters looking for a redemption arc is always a good sign that fireworks might be in store.
BillyJack Cupp vs. Chris Rykrsmith — 170 lbs.
After claiming the lightweight title at Fight For It VII, Team ROC Harrisburg's Cupp (6-3) moves up to welterweight to face Leadership martial Arts' Chris Rykrsmith (6-6), who is making his return to the cage after a seven-year layoff.
Kevin Spruill vs. Josh Hoffman — 170 lbs.
After a cancelled bout at Fight For It VII left Spruill on the sidelines rather than in the cage, you can bet he's eager to step toe-to-toe with Hoffmann to continue the comeback streak the 2-1 welterweight from Elevate MMA Academy and Tapout Fitness started in April. But Hoffman, who made his debut in August with a first-round TKO win has his own momentum coming into this bout.
Jeromy "The Adonis" Mitchell vs. Dreon "Bullet" Martin — 145 lbs. Pro Fight
West Virginia and Virginia clash in North Carolina when the W.V.-native Mitchell (1-0) and the Virginian Martin (1-4) meet at Fight For It IX. With Mitchell looking to build a win streak and Martin looking to tip his record back toward the win column, both men have plenty on the line for this professional featherweight tilt.
Kenneth "The Pit" Crowder vs. Kevin "The Hebrew Hammer" Schroder — 145 lbs. Pro Fight
With a 2017 bout, which ended in a no contest, left unresolved, this match between the 3-3-1 Renegade Fighting Systems featherweight Crowder and 0-2-1 Eight Points Muay Thai featherweight Schroder offers a chance to finish business that's been left in limbo for two years.
Bryan "Pooh Bear" Battle vs. Aaron "Carolina's Finest" Chambers — 185 lbs. Pro Fight
Earning a win and a loss in his first two professional outings (both at Fight For It events), the Hayastan MMA prospect Battle is looking to get back to his winning ways in this bout with the 2-1 Chambers, a N.C. native who fights out of Kickfit and Pariah MMA in Colorado, and who also seeks a redemption win. With both men hungry for victory, this middleweight main event promises a great show.
Fight For It IX takes place November 23 at Select Sportsplex in Hickory, N.C. Tickets are still available at store.atlanticmma.com.