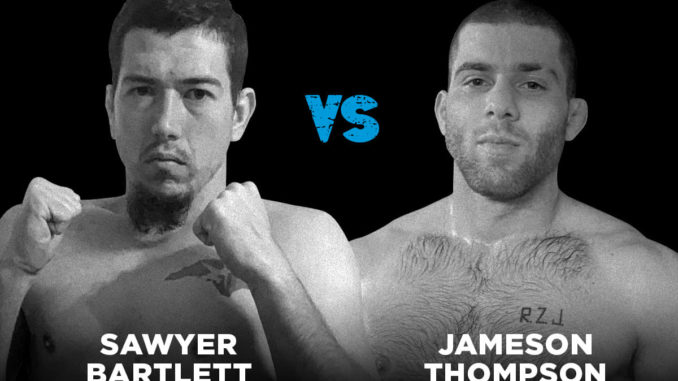 Sawyer Bartlett burst onto the Ammy MMA scene with a victorious debut at Ultimate Battle Grounds in October. In that contest, the Team ROC-trained Bartlett mauled his opponent for a third-round finish by TKO. Since then, canceled bouts have kept him out of the cage, but that changes this weekend when he takes on Atlantic MMA's Jameson "Silverback" Thompson.
This analyst spoke to Thompson about this weekend's event and his background in martial arts. The "Silverback" states he started training because, in his own eloquent words, "In order to become a limitless man, you gotta know how to fight."
When asked about his fighting style, Thompson simply said, "What style fighter I am is going to be seen Saturday. And if my suspicions are correct, it's the kind you don't want to mess with. If we gotta throw hands, let's go. If we gotta wrestle, let's go."
If "Silverback"'s in-ring presence is at all equal to his conversational one, Sawyer Bartlett might just have his hands full when these two make the walk this weekend at Fight for It XIII.
---
Fight For It XIII goes down Saturday, April 9 at the Downtown Spartanburg Marriott in Spartanburg, SC. Purchase your tickets now at fightforitcompany.com.
Be sure to download the Fight For It app on on The App Store or Google Play to pick your fantasy winners at Fight For It XI. The pool is free to play and will award the top three scorers with their share of a $500 cash prize.