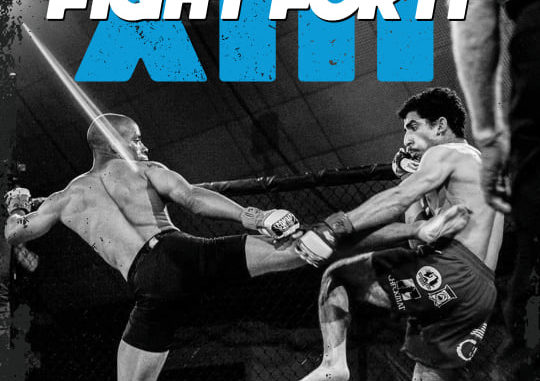 Dylan McGrath: Thrilling bouts and big finishes made Fight For It XIII a showcase worthy of the biggest stages
Fight For It XIII was everything we hoped for and then a little more. The new venue was amazing and gave the whole event a "Big-Fight" feel, as my co-commentator Ses Stevenson would say. The night's fights were action-packed and the matchmaking was brilliant, as always.
Going into this one I knew Brent Williams had some striking skills but dominating Omer Hassan for five rounds straight to claim the 135 lbs. title is something I didn't think we'd see. That was certainly my favorite performance of the night for kickboxing.
On the MMA side of things, it's hard not to be extremely impressed with Trevor Loken's performance in the main event, absolutely buzz sawing through Kevin Peraza — one of the Carolinas' best pound-for-pound ammy fighters — inside one round, for his first title victory.
That said, my Fight of the Night award goes to Mr. Aaron Castro and "The Prince" Ahmed Khamis. Their fight was thrilling start to finish and I, for one, would love to see a rematch!
Also, I noticed some prospects are starting to emerge through the Fight For It system, Travis Snyder looked like a future superstar in his bout, and Khalil Pettiford and Brandon Boulden picked up equally impressive finishes in their outings. One thing is for sure, the future of MMA in the Carolinas is brighter than ever when Fight For It allows for the "stars" to shine in events like Fight For It XIII.
Ses Stevenson: Tight matchmaking attracts a "murderer's row" of talent
Fight For It XIII is in the books and it was an amazing night of fights. The production in-house and online was outstanding. The fight staff was amazing. Fighters and teams were confident. These elements equated to a smooth night of competitive fights for the fans. 
Several fights stood out, from the crowded pack. One of these was the kickboxing battle between Kaz Ivanov and Brent Childress. Once again, Ivanov was very technical and showed the ability to raise his level against a very talented and determined opponent in Childress.
In MMA, a new champion was crowned. In the main event, Trevor Loken stole the belt from Kevin Peraza with a choke in round one. Loken is on a roll and the future looks bright for this seemingly unstoppable 145 lbs. juggernaut.
My pick for fight of the night was Aaron Castro vs. Ahmed Khamis. Khamis displayed excellent Muay Thai, while Castro countered with hard-punching boxing. But it was the grappling that made the difference. This fight was a draw in the end but it revealed that both competitors are elite and make viable contenders for the featherweight title held by Loken. 
It was a family affair as Ryan Taylor and his son Mason fought and won on the same card. Ryan was announced as "Papa Bear" during the walk-in. I was honored that "Papa Bear" earned his nickname from an article I wrote about him. Taylor was surprised as well because it was his coach who set it up with the announcer. It was an awesome feel-good moment.
Stay alert, fight fans, for the following names in Fight For It's MMA stable: Kahlil Pettiford, Travis Snyder, and previously mentioned Aaron Castro.  These young men are laser-focused and will eventually earn title belts within their next five events.
In Kickboxing, Brent Williams is the name to follow. He displayed technical skill, finesse, and showmanship to win the 135 lbs. title.
Fight For It is now the flagship for MMA in the Carolinas, showcasing a murderer's row of teams such as Matrix MMA, Team ROC, Kick Fit, Carolina Kickboxing, Atlantic MMA, Gym-O, Hayastan MMA, Lake Norman Muay Thai, Body Shot Combat, Modern Warrior MMA, 4M Fitness, SJD, Konquer MA, Chance Muay Thai, Tapout, Gracie Raleigh, Elevate MMA, and American Top Team. Coaches, competitors, and champions alike campaign to rep their teams and put it all on the line. At this event, as with its predecessors, each competitor showed up ready to "Fight For It."