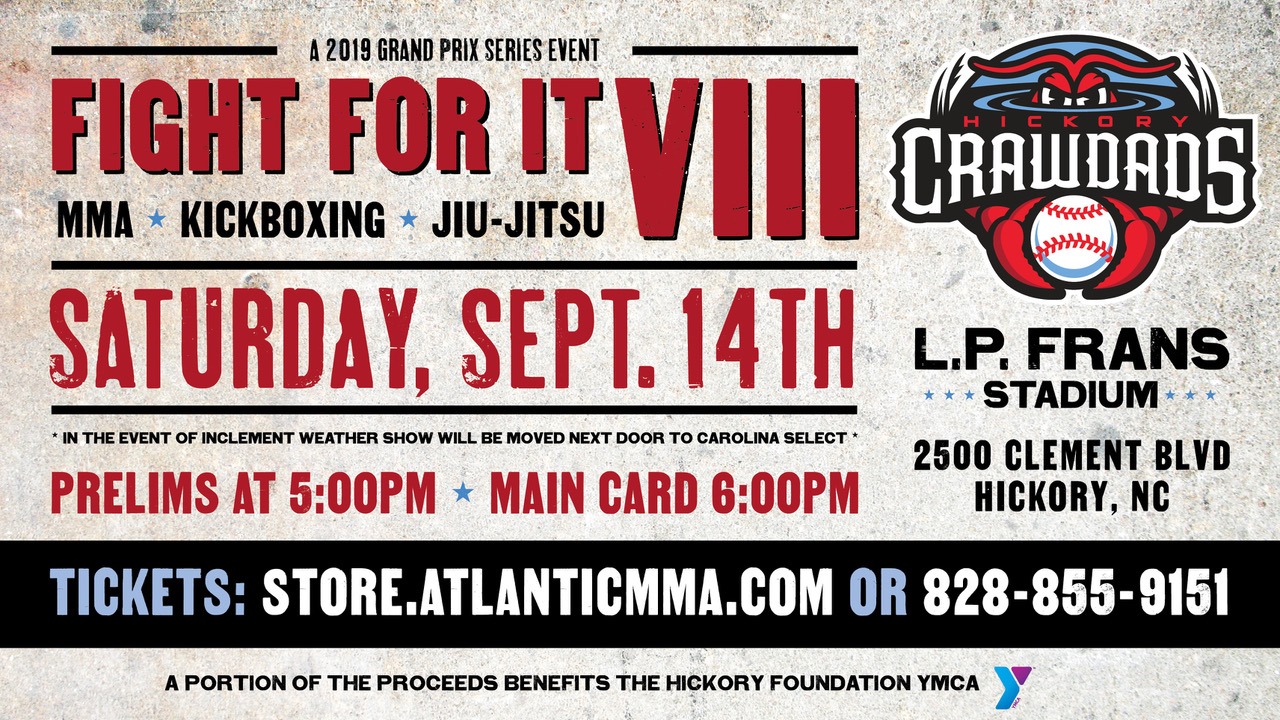 Hello fight fans! Dylan McGrath, lead analyst at Fight For It & Co., here. I'm very excited to be talking to you about this weekends super stacked card at Fight For It VIII!
We're going to be taking a look at some of my most anticipated bouts of the event as well as some key standings from the Grand Prix Series and how they might be affected on Saturday.
First of all, we can safely say the Grand Prix has been a raging success thus far. More and more fighters from all over the state, and even beyond, are returning to compete at Fight For It shows over the 2019 season and fan attendance and viewership has been growing with each event, as well. The Grand Prix has also given us some great stories like Micah Harnden's standout performances, which have given him a streak like no other so far in Fight for It and has him leading the Grand Prix regardless of weight class with a staggering 15 points. It's also produced some breakout stars amongst Fight For It Fans, including Billy Jack Cupp who has put on some of the most entertaining fights we've seen in this bracket, including his title victory over Josh Alston at Fight For It VII.
The biggest opportunity in our rankings this weekend comes for Shameek Harvey, who, with a first round finish of Micah Harnden, could take home not only a title but first place in the Grand Prix bracket.
This Saturday also marks a long anticipated debut of a new arena of combat as we convert The LP Frans Stadium — usually a home for the Hickory Crawdads baseball team — into our proving ground. Fights will be held outside, and for many fighters it may be their first and only time fighting under such conditions. Speaking as a fan, it certainly changes the vibe and intensity of an event. I can't imagine how different it must be to perform under the open sky compared to the tight-knit venues that usually host North Carolina MMA shows. I'm interested to see how all these fighters perform under the bright stadium lights but I'm particularly interested in a few matchups. Let's take a look.
Kickboxing
Omer Hassan vs. Juan Morales
Omer Hassan is coming off a tough decision loss to Jordan Fox in his last outing at Fight For It VII. On social media in the months following the bout, Hassan expressed some frustration with the decision but is taking it in stride and appears to be hitting the training room harder than ever. I'm very interested to see what he looks like when he has something to prove. His opponent, Juan Morales, is a tough kid that's shown us he's got a lot of heart and the kind of chin that can weather more than a few of Hassan's strikes. I think this one has potential to be a real show stealer and I think Hassan is a breakout in the making.
Cliff Gunderson vs. Jordan Fox 2
I love rematches. They're something we don't see too often in our sport, but when they do come together it's usually because the first fight was something special. Cliff Gunderson and Jordan Fox fought to a draw earlier this year at Fight For It VI, and while Gunderson seemed to be leading the dance for most of the bout, Fox was never far behind or out of the fight by any means. A late point deduction coming courtesy of a series of illegal strikes from Gunderson, was all Fox needed to slip his way into a majority draw. Now he's looking to go into the second bout a much more prepared and knowledgeable version of himself. Gunderson feels, even with the point deduction, he should have been announced the winner of the first fight. I know both of these guys are anxious not only to prove who should have won in March but also to leave the judges out of this one. It has Barn Burner potential written all over it. Don't blink.
MMA
Shameek Harvey vs. Micah Harnden for the 135-lbs. Fight For It Championship
Hands down, this is the fight I am most excited for on this card. Two extremely athletic and obviously talented young men going to war, not only for a belt, but potentially a shakeup in the Grand Prix rankings, too. This might not be a barn burner in the sense that these two guys are going to stand in the middle and throw down, but in the sense that both of these guys are extremely capable martial artists, who perform light years beyond what their records suggest, it's bound to be a thrill-ride of high-level competition. These are both two prospects to look out for. Both are extremely gifted grapplers with dynamite wrestling and effective, brutal submissions. Look for this one to go long and test the grit and cardio of both guys. When the dust settles, I'm very interested to see who can outlast his opponent in this one and come out with the Bantamweight strap!
Zach Faulkner vs Josh "The Gingerbread Man" Baker
Both of these guys are red hot right now. Faulkner is fresh off a quick submission in his return to MMA competition. Baker is one of the fastest rising prospects in the Carolinas with a stellar submission track record and coaching staff. This is bound to be another grappling heavy affair, I would assume. Baker is a likely favorite but Faulkner should not be underestimated on the feet or on the ground. He has a devastating overhand right that he throws from nowheresville USA, which has even put away one of his opponents in an earlier bout. I'm guessing Faulkner will do his best to keep himself in this fight by keeping it on the feet and making it a brawl. Another fight with barn-burner potential that should tell us a lot about what the future holds for both guys. Keep an eye on this one.
Despite the anticipated fireworks in the bouts listed above, it was difficult to make a pick of only four fights. This card is layered top to bottom with compelling and competitive matchups. I can't wait to see the Fight For It cage on home plate of the LP Frans stadium and to see this stacked card unfold on Saturday night.